Travels to the states...
Travels on the island...
Routines broken...
Connection to my camera distant...
Monday, hours before our plane trip to Georgia, I sat down and worked with old photos, hunting for ones to share in Kat's Liberate Your Art postcard swap.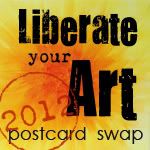 I'd been uninspired for weeks, maybe even months.
Yet as I went through my photos I was reminded of why I love photography.
I felt the spark begin to return.
Time with my four year old granddaughter Bella has been helping me
connect to my camera once again.
A heart connection on multiple levels.
Precious

...