I'm running my very first Give1Away. Details at the bottom of the post.
A large part of trying to figure out my focus is determining what needs to be eliminated in my life and photographs.
Yesterday I read a blog post over at The Kat Eye View that was exceedingly helpful.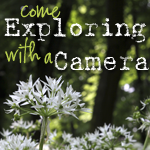 Kat talked about the process of elimination and defined three aspects: framing, cropping and cleaning.
This is the setting and where began with this picture. Notice the sea urchin in the right corner, the chair leg above the urchin, the bench, the red car & the bottles of sea glass. There's simply too much to focus on...my subject is lost.
So often I feel like a cat on catnip...I get dizzy with all that I have to do, want to do, and hope to do. My goal is to see the big picture, notice what captures my attention, determine and experiment with how to best frame it, crop what I wasn't able to frame properly and then clean up what is left. September promises to be a crazy busy month with almost constant motion beginning September 7th. The next seven days I want to simplify all that I can before embarking on September's adventures so that I can fully enjoy and capture all that the month brings to me.
Be sure to check out Kat's post and her upcoming class.
For every comment you leave on my posts between September 1-6 posts you get a chance to win a bottle of sea glass and shells. If use a "share" or "like" button tell me in a comment. I love hearing from you all.